| | |
| --- | --- |
| Search the Republic of Rumi | |
---
Chapter 56
A Branch of the Sidrah Tree
---
If the first chamber of the Temple of Modern David has helped you figure out Joseph, then doesn't it seem logical than the other chamber should offer you a reason for continuing the journey?
This chamber consists of 75 poems. Iqbal welcomes you by saying, "You are a branch of the Sidrah Tree. Do not become the thorns and thistles of the Garden. If you have denied His existence, do not deny your own."
The Sidrah Tree is the end marker of the created world and stands at the doorstep of the Almighty. Events witnessed in the Creation Stories may have taken place around it. It seems that at some point in the Second Chamber the possibility of your denying the existence of God may present itself. Then you must remember where you come from, and should not deny yourself.
DISCUSS
---
You have reached the end of this chapter. You may like to discuss it before reading the next.

Post your comments or read others'
---
| | |
| --- | --- |
| Search the Republic of Rumi | |
---
The reader enters the second chamber of the temple and divides the seventy-five poems of that section into five sets of fifteen poems each.
---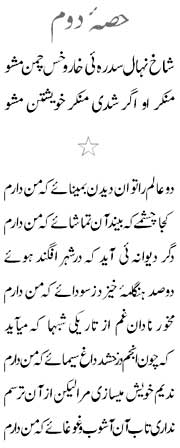 ---