| | |
| --- | --- |
| Search the Republic of Rumi | |
---
Chapter 96
Hejaz
---
The Poet died on April 21, 1938, just after finishing the ninth enclave. It is called The Gift of Hejaz and came out a few months after the poet's death. It consists of five sections in Persian and one in Urdu.
From the appearance of the first part of Secrets and Mysteries in 1915 to the last book published in 1938, it took twenty-three years for the Garden to be completed. Incidentally, that is the same duration which the Quran took for its revelation.
Imagination

Iqbal makes an imaginary journey to the Prophet's tomb in Hejaz (Saudi Arabia). There he says, "The heart is the lovers' only guide in the ocean that has no shore. We set off for Mecca because you told us to, otherwise you alone are our destination!"

The Arab World

The message from Umar Farooq, the second caliph of Islam, to the ruler of Egypt. The message says, "Combine faqr and government in your person."

The Devil

Iqbal invites the Devil to join him in turning the world into a veritable Paradise and says, "After all, we both were expelled from the Paradise, right?"
You have reached the end of this chapter. You may like to discuss it before reading the next.

Post your comments or read others'
---
| | |
| --- | --- |
| Search the Republic of Rumi | |
---
An imaginary journey to Hejaz, a message from the second caliph Umar Farooq to the present ruler of Egypt and an invitation from Iqbal to the Devil for turning this world into a veritable paradise.
---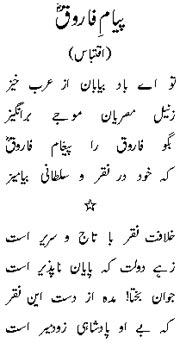 ---