Jan 3 Baluchistan states sign for joining One-unit; former princes to receive stipendsp>Jan 10 GG Ghulam Muhammad annouces ordinance to merge Orient Airways into PIA, soon to start functioning
Mar MGM venture Bhowani Junction being shot in Lahore with Ava Gardner and Stewart Granger in cast
Apr 5 Dr. Khan Sahib nominated CM of proposed West Pakistan under One-unit, Nawab Mushtaq Gurmani to be Governor
Apr Former PM Bogra leads Pakistan delegation to Afro-Asian Conference in Bandung
Jun United Front nominee Abu Hussain Sarkar elected PM of East Bengal
Jul 31 Pakistan devalues its currency, returning to the original parity with the Sterling before the devaluation of the Pound in 1949
Aug 4 Cabinet approves Finance Minister Ch. Muhammad Ali's suggestion to make Maj Gen Iskander Mirza Acting GG in view of deteriorating health of GG Ghulam Muhammad
Aug A. K. Fazlul Haq replaces Mirza as Minister for the Interior
Aug 17 Radio station Hyderabad, 6th in Pakistan, inaugurated by Sindh CM Khuro
Sep 19 GG Ghulam Mohammad's decision to retire by Oct 6 announced
Sep 23 Pak signs Baghdad Pact for mutuaal defence with Turkey, Iraq, UK
Sep 26 Hamidul Haq Choudhry appointed Foreign Minister
Sep 30 West Pakistan Act passed; gives constitutional coverage to One-unit; Lahore to be provincial capital
Sep-Oct Television displayed for the first time in International Industrial Exhibition, Karachi
Obituary
Saadat Hasan Manto (b.1912): short story writer, film writer (Jan 11)
F.D.Sharf: song writer
Ustaad Bundu Khan (b.1880): Music master and sarangi player
Nawaz: film actor, director (Sep 19)

Tameezuddin Case
February 9: Sindh Chief Court has passed its verdict against GG's dismissal of Constituent Assembly. The court has also passed orders to restore Maulvi Tameezuddin Khan to presidentship of the resurrected Constituent Assembly. The appointment of ministers by the Governor-General is declared illegal. The Court declares that the Constituent Assembly is a sovereign body, and therefore "subject to no agency or instrument outside itself to effect its dissolution or to give its laws validity, except such as it itself chose to create."
---
Election results
No single party has secured an absolute majority in the elections to the Constituent Assembly held this June. The number of seats secured by each party is listed below:
Muslim League 25
United Front 16
Awami Muslim League 13
Independents (incl. 2 non-Muslims) 4
Pakistan National Congress 4
Scheduled Caste Federation 3
Noon Group 3
United Progressive Parliamentary Party 2
Azad Pakistan Party 1
Communist Party 1
Assembly elected
June 21 Elections were held today for the new assembly, nearly eight months after the dissolution of the first Constituent Assembly of Pakistan. The new assembly has been elected on indirectly, just like its predecessor.
Representatives from East Bengal, Punjab, Sind, Khairpur State and the NWFP are elected by the provincial assemblies, from Karachi by the Municipal Corporation, and from Balochistan by the Shahi Jirga and the non-official members of the Quetta Municipality. The rulers of Bahawalpur and the Frontier States have nominated their representatives while the remaining four have been chosen by the Tribal Advicory Council and the Council of Rulers of Balochistan States. Anomalies prevailed: Interior Minister Iskander Mirza (originally a Bengali) has been nominated from Sialkot, a city he has never even visited!
---
Economy
Jun It can be claimed that the targets defined by the Six-Year Plan (born out of the Colombo Plan) have been fulfilled much earlier than planned. One indicator of success is that the total cost of schemes executed or approved comes to around Rs.5,231 million as compared with the estimated cost of Rs.2,600 million for the entire six-year period. Of this, schemes costing about Rs.2,000 million were for agriculture and irrigation, Rs.1,500 million for power, Rs.940 million for communications and Rs.525 million for industry.
---
Difference of east and west?
July 7 First session of the new Constituent Assembly (80 members) held at Murree; Chaudhry Mohammad Ali elected to replace Bogra as president of assembly; 28 out of 40 members from West Pakistan are big landlords, while East is represented by 20 lawyers, 9 retired teachers and no landlords.
---
Government rehashed


Iskander Mirza and Chaudhri Muhammad Ali.
August 7: Maj. General Iskander Mirza, Interior Minister since 1954, has been appointed the Acting Governor General by the Cabinet on istigation of Chaudhry Muhammad Ali. The rumour is that Malik Ghulam Muhammad has been suffereing from mental illness for a while, and the decision may have to be forced down the throat of the autocratic Governor-General.

Read complete text: Governor-General Iskander Mirza's first broadcast, October 7, 1955.
August 8: Prime Minister Mohammad Ali Bogra resigns after losing the leadership of the majority party, the Muslim League.
August 11: Chaudhri Muhammad Ali, the leader of the Muslim League, is appointed Prime Minister by the Acting Governor General Mirza. Grapevine has it that Mirza also held consutlations with Fazlul Haq and Suhrawardy, the two leaders from East Bengal whose parties do not have majority in the house. Chaudhri has formed coalition with Fazlul Haq's United Front but his appointment violates the convention that the PM and GG should not belong to the same wing of the country.
---
Iskander Mirza sworn in as Governor General
October 7. Iskander Mirza (Acting Governor General since Aug 7) has been sworn in to replace Governor General Ghulam Mohammad who retired yesterday. Queen Elizabeth II has also sent her approval.
---
West Pakistan
October 14 New West Pakistan province takes shape as West Pakistan Act is implemented. Gurmani and Dr. Khan Sahib take oath as Governor and Chief Minister, respectively. Cabinet includes Daultana and Khuro among others.
Justice Munir supports the Governor-General
May 10 Federal Court, headed by Chief Justice Munir Ahmad, upholds GG's dissolution of the Assembly; Justice Cornelius strongly disagrees.
"I place the Constituent Assembly above the Governor-General, the Chief Executive of the State, for two reasons," Justice Cornelius writes in his note of dissent. "Firstly, the Constituent Assembly was a sovereign body, and secondly, because the statutes under and in accordance with which the Governor-General was required to function were within the competence of the Constituent Assembly to amend." The enlightened but disregarded judge further writes: "All the three 'Limbs of Administration' -- Organs of Government, viz. Legislature (Constituent Assembly), Executive and Judiciary, have worked, since 1947, on the clear understanding that Constitutional laws did not require the assent of the Governor-General. Since 1 March 1955, the Federal Court has decided that it is not bound by its previous decisions."
---
A frightening demonstration
September 6: Natural gas pipeline has been laid out from Sui to Karachi. During a trial today, at Sui Gas Terminal, Country Club Rd (11 miles from the city), a big flame was observed by the city dwellers that was rising high into the sky. They were only relieved when learnt it was a controlled demonsatration.
---
The return of Khuhro
Ayub Khuhro has become Sindh's CM once again following Pirzada Abdus Sattar's dismissal. The move is apparently a result of central government's displeasure over Sindh assembly's reaction to One-unit scheme.
---
East gets least
Appointment of Punjab-based politician, Chaudhry Mohammad Ali, as PM to replace dismissed Bogra has left EP out of power pinnacle: exactly on the ninth anniversary of Quaid's August 11 speech, which promised an egalitarian Pakistan.
---
Pushto Academy
Pushto Academy set up to promote regional literature.
---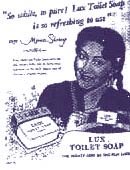 Meena Shorey, the Lara Lappa Girl as Lux Lady
---