Apr International conference on "Quran and Science" held as a sequel to the conference on Science and Muslim civilization held in 1983; General Zia presides
Mar Victory in the Bangalore cricket Test brings first Pakistani series win on Indian soil
Jul 14 Two car bombs wreak havoc in Saddar, Karachi, killing over 70 and injuring more than 200; Gen Zia links the incident to Afghan policy
Summer Pakistan cricket team records first Test series win in England under Imran Khan
Oct 6 Indian Prime Minister Rajiv Gandhi inaugurates 4th Cricket World Cup in Delhi, co-hosted by India and Pakistan
Oct 8 Pakistan beat Sri Lanka by 15 runs in the first match of 4th World Cup at Hyderabad
Oct 15 Qazi Hussain Ahmed elected Amir of Jamaat-e-Islami by 6,000 members; oath to be taken on Nov 4
Oct 21 Pakistani squash player Jansher Khan becomes world champion by defeating Australian Chris Dittmar at Birmingham
Nov 1 Sahibzada Yaqoob Khan resigns as foreign minister due to differences with Junejo over Afghan issue
Nov 4 Pakistan beaten by Australia by 18 runs in World Cup semi-final
Nov 30 Municipal elections held; low response helps 10,000 of the total 170,000 candidates for 77,000 offices to be elected unopposed
Dec Third SAARC Summit at Kathmandu
Obituary
Khan Abdul Ghaffar Khan: Pakhtun political leader of the Red Shirt movement, popularly known as Bacha Khan and Frontier Gandhi
Sadequain: painter, calligrapher, poet (Feb 10)
Pir Ali Mohammad Rashdi: writer, politician (Mar 14)
Waris Mir: columnist, scholar (Jul 9)
Abul Fazl Siddiqui: fiction writer (Sep 16)
"Islamic bomb"
February 28 Indian journalist Kuldip Nayyar's interview with Dr. Qadeer Khan is published in London Observer, in which the latter is quoted as saying that Pakistan has developed a nuclear bomb. An international controversy erupts over what is labeled as the "Islamic Bomb."
---
You are on budget!
June 4 Finance Minister Yasin Wattoo announces in budget speech that 20 billion rupees will be generated through a defence tax and across the board increases in the prices of all essential commodities
June 4 -12 Mass agitation against budget; two dead, several injured.
June 12 PM Junejo withdraws all controversial taxes; part of the fiscal gap to be filled by small car ("generals in Suzukis") austerity drive
---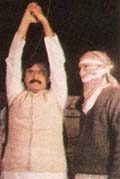 Power to the people?
Municipal elections are held in November on a non-party basis, but political parties participate via the backdoor, just as in the previous local bodies polls of 1979 and 1983. MQM-backed candidates, contesting under the banner of the Haq Parast, secure sweeping victories in Karachi and Hyderabad while the Awam Dost, or PPP-backed candidates, hold sway in rural Sindh. Meanwhile the Watan Parasts, backed by the ruling Muslim League, do well in the Punjab but are rejected in the southern province. Is this the beginning of a new political divide in Sindh?
---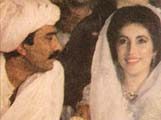 People's wedding
December 18 Benazir Bhutto, "Daughter of the East," ties knot with the relatively unknown Asif Ali Zardari at Karachi's Kakri Ground. One of the most colourful weddings in national history, it is attended by thousands of well-wishers from all walks of life.