Jan 1 Political activities resume; weapons not permitted at political gatherings

Jan Sabrang, a new Urdu digest is launched from Karachi. Editor: Shakeel Adilzada
Jan 29 China gifts 81-foot chandelier, to be installed at the mausoleum of Quaid-e-Azam in Karachi
Apr Pakistan Tourism Development Corporation established
Apr 28 Super Highway between Karachi and Hyderabad inaugurated by Persident Yahya Khan
Jul 1 One-Unit dissolved; provinces of Sindh, Balochistan, Punjab and NWFP restored; Karachi part of Sindh
Dec 1 United Arts releases Yousuf Khan Sher Bano, first Pushto film; starring Badar Munir, Yasmeen Khan, Mah para, Saqi; produced by Nazeer Husain; directed by Tasneem
Dec 1 Maa Te Maa, first Pakistani Gujrati film; released by Asian Movies, starring Shaista Qaiser, Agha Sajjad, Saira Bano; music by Lal Muhammad-Iqbal; prduced by Qadeer Khan; directed by Iqbal Akhtar
Dec 7 National Assembly elections; 30-hour non-stop transmissions from television stations at Rawalpindi, Karachi, Lahore and Dhaka disseminate election results

Dec 17 Provincial Assembly elections
Obituary
Hayder Bakhsh Jatoi:
Sindhi peasant leader and poet (May 21)
Legal Framework Order
March 28. Legal Framework Order been issued by the Martial Law regime, outlining election procedures as well as considerations for future government and constitution. The country's name Islamic Republic of Pakistan has been restored while One-Unit is to be dissolved from July 1 to restore five provinces. The National Assembly will consist of 319 seats: 169 from East wing, 144 from West Pakistan and 13 reserved seats for women.
---
Cyclones put off elections
Devastating cyclones hit East Pakistan, throwing into disarray plans for elections scheduled for October this year. New dates for the elections have been announced: December 7 for the National Assembly and December 17 for the provincial assemblies.
---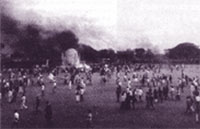 Above: Awami League workers disrupt a plitical meeting of Jamaat-e-Islami in East Pakistan.
East is East, West is West...
A rift between the people of East and West Pakistan seems to be appearing and politicians on either side are highlighting entirely separate issues in the election campaign. Interestingly, neither Mujibur Rahman's Awami League, nor Bhutto's Pakistan People's Party enjoys much support beyond his own part of the country while hardline religious parties claiming that "Islam is in danger" view both Bhutto and Mujib as agents and purveyors of anti-Islamic ideas.
President Yahya's constitutional advisor G. W. Chowdhry has predicted that no single party will emerge with clear majority even within one wing of the country.
---
Election results
December. In the first elections held in Pakistan on the basis of adult franchise, Sheikh Mujib ur Rahman's Awami League has won a stunning majority of 160 seats, but has failed to win a single seat from the West. Zulfikar Ali Bhutto's Pakistan Peoples Party has come out as the majority party in the West, winning 62 (out of 82) seats in Punjab, 18 (out of 27) in Sind, and 1 seat in the NWFP. Likewise, it has failed to win any seat in the East.
---
National Assembly to meet March 3 next year to frame constitution.
---
How green will be the valley?
The merger of the princely states into Pakistan last year has begun to reveal at least one disastrous impact that will probably go unnoticed for a long time: the process of deforestation is set on move in such states as Dir, Chitral and Swat.
The forests formerly belonged to the princes. They are now owned by the state and managed through a system of government-employed forest guards, who are usually from outside the area and insensitive to local needs. The forests are no more a support to the local economy: they serve as a means of generating revenue for a government who finds it wasteful to invest in forests that demand more in conservation than they are likely to yield in harvest. For the trees in the densely forested former princely states of Pakistan, the future does not appear very green.
Herald
January. The Pakistan Illustrated is relaunched as the Herald. Volume 1, Number 1. Price Re 1 (West Pakistan), Re 1.25 (East Pakistan)

---
Wildlife Fund
Pakistan Wildlife Appeal, a voluntary organization who has recently changed its name to World Wildlife Fund - Pakistan (WWF-P) following affiliation with the international parent body is perhaps the first green non-government organization in Pakistan.
---
Party Political Broadcasts
Lifting the primordial ban against politicians on television, the Yahya regime has instructed the television authorities to cover the manifestoes of the political leaders. PTV has started a 20-minute program titled 'Party Political Broadcast.' Each political leader is required to get his speech cleared in advance by the Martial Law authorities to make sure that nothing goes against the Legal Framework Order.
---
Mystery surrounds poet's death
October 12. Popular poet Mustafa Zaidi was found dead in his Muhammad Ali Society (Karachi) apartment together with an unconscious woman, Shehnaz. The two were apparently on intimate terms and the popular theory is that they had both attempted suicide by ingesting poison. Investigators say they will know more once the medical team completes the examination of Shahnaz's stomach contents.
---
Girlfriend charged with murder
Shehnaz is under arrest for the murder of poet Mustafa Zaidi. She is also implicated in a smuggling scandal, and accused of conducting affairs with several high ranking officials and industrial magnets, in order to carry out espionage for foreign agencies.
---
Songs remembered
Dil dhadkay, mein tumse yeh kaisay kahoon... (Anjuman)
Izhar bhi mushkil (Anjuman)
Mein tera shehr chhore jaoonga
(Shama Aur Perwana)
Yoon kkhogae teray piyar (Afsana)
Ay abr-e-karam (Naseeb Apna Apna)
Sun vanjli di (Heer Ranjha)
Kisnay toda hai dil (Rangeela)
Yeh ada yeh naz (Road To Swat)