Jan 12 Non-party elections announced
Jan 15 Pakistan Steel Mills (formerly Karachi Steel Mills) inaugurated
Jan 28 ECO launched by Iran, Pakistan, Turkey
Feb 25 NA elections
Feb 28 PA elections
Mar 3 Military court passes death sentence on PPP activist Ayaz Sammoon for murder of Zahoorul Hassan Bhopali
Mar 4 Nasir Baloch hanged, Karachi Central Prison
Mar 24 Junejo secures vote of confidence
Mar 28 Dr. Qadeer Khan vindicated by Supreme Court, Holland
Mar Exiled PPP leaders Abdul Hafeez Pirzada and Mumtaz Bhutto form Sindhi Baloch Pashtoon Front (SBPF) in coalition with Sardar Ataullah Mengal, Afzal Bangash and others, in London
Mar Pakistan retain Asia Cup hockey title at Dhaka under Haneef Khan
Apr 16 College girls demonstrating against Bushra Zaidi death injured in police shelling and baton-charges
Apr 18 leaders of SBPF declare manifesto; demand confederation of four provinces with each given right to secede
Jul 14 Tribunal headed by Major General Mohammed Hussain Awan pronounces verdict in 'Operation Galaxy' case; accused receive sentences from 10 to 25 years
Jul 18 Shahnawaz Bhutto, son of former PM Zulfikar Ali Bhutto, found dead in his Paris apartment under mysterious circumstances
Nov Aga Khan University Hospital inaugurated in Karachi
Dec 8 SAARC launched
Obituary
Ghulam Ahmed Pervez:
iconoclastic religious scholar
Bholoo Pehalwan:
wrestler
G. Allana:
poet, scholar, economist
MRD to boycott elections
Leaders of the MRD, meeting in Abbotabad soon after General Zia's announcement of elections, have passed a resolution to denounce non-party politics. They will boycott the forthcoming elections and have appealed to voters to stay away from polling booths.
---
Party pooper
February The recent elections were different from those held in 1970 and 1977. For better or worse, there was not much of a commotion; the candidates contested on a non-party basis, and many senior politicians were excluded because of their commitment to the MRD. Despite the MRD boycott, voter turnout was respectable.
---
Zia to be President for 5 years
March 23 Parliament holds first session today. General Ziaul Haq (left) is to remain President for 5 years while the relatively unknown Mohammed Khan Junejo (right) is nominated Prime Minister. Junejo is generally known to be a follower of Pir Sikander Ali Shah of Pagara.
---
Eighth Amendment passed
"All presidential orders, ordinances, martial law regulations, martial law orders are hereby affirmed, adopted and declared, notwithstanding judgment of any court or on any ground whatsoever..."
---
PPP activist Ayaz Sammoon hanged
---
Beginning of the end?
December 30 Martial Law was lifted today. All presidential orders remain in force, having been approved by the National Assembly in the Eighth Constitutional Amendment. The 1973 Constitution -- or what is left of it -- is restored and so is democracy. The 20-year state of emergency, declared during the 1965 war, has also been revoked.
Bushra Zaidi
April 15 Bushra Zaidi, a student at Sir Syed Girls College, who was run over by a public transport bus in Nazimabad, Karachi, succumbs to her injuries.
---
Violence erupts in Karachi
April Following the Bushra Zaidi incident, there have been reports of violence in the city. Curfew has been imposed in various localities. The violence seems to be taking place along ethnic lines, with the initial attacks on transporters and police turning into pitched battles where Punjabis and Pakhtuns are pitted against Mohajirs.
---
The hathora galls
December A wave of panic is spreading throughout the country, as the so-called Hathora Group death count rises to more than 60. No one knows why innocent men, women and children are being bludgeoned to death while they are asleep. The first such murders were reported around Islamabad late last year. Then, in April this year, the brutal killings began again, and have continued throughout the year, spreading terror to Punjab, Sindh and the NWFP. At least 19 people have been butchered in Karachi alone.
---
Conserving the markhor
A group of volunteers in the Torghar Hills region of Balochistan have started an initiative to protect the population of markhor and urial in their vicinity. The combined population of both species in the area has reduced to less than 100 animals, and they may disappear unless conserved. The volunteers have launched a scheme of sustainable use initiative, employing the local inhabitants as game guards and their wages will be paid from the trophy fees collected from foreign hunters once the number of animals increases.
Songs remembered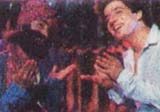 Allah Allah kar bhaiya (PTV)