Jan 1 Chartered banks introduce new savings accounts based on a 'profit abd loss sharing' principle, following the Zia Regime's quest for interest-free banking
Jan 2 Islamic University starts functioning in Islamabad
Jan First annual Seerat Conference held under auspices of the Ministry of Religious Affairs
Mar Benazir, daughter of Zulfikar Ali Bhutto, is placed under house arrest
May 13 US Senate Foreign Relations Committee votes 10-7 for a six-year waiver of sanctions against assistance to Pakistan
Jun 24 President announces office of Federal Ombudsman to be set up soon
Jul Pakistani delegation to US negotiates terms for acquiring F-16 aircraft
Aug 14 Special arrangements for annual Independence Day celebrations: all educational institutions remain open and organise special events; national anthem is broadcast, during which all vehicles to come to a halt; citizens have been urged to decorate streets and homes with flags
Dec 13 Pre-censorship of press withdrawn; other restrictions to continue
Dec PTV broadcasts special drama about Afghanistan, Panah, aimed at eliciting favorable public response for government's Afghan policy
Obituary
M.A.H. Ispahani:
businessman
Athar Nafees:
poet, columnist
Fazal Ahmed Kareem Fazli:
film director
I. H. Qureshi:
historian, educationist
Movement for Restoration of Democracy
February 6. Movement for Restoration of Democracy (MRD) coalition is formed, comprising Pakistan People's Party, National Democratic Party, Tehrik-e-Istaqlal, Pakistan Muslim League (Khairudding and Qasim Group), Qaumi Mahaz-e-Azadi, Pakistan Mazdoor Kissan Party, Jamiat-e-Ulema-e-Islam, National Awami Party (Pakhtoonwa); MRD demands withdrawal of martial law and immediate elections; movement elicits support of lawyers and journalists.
---
Plane hijack
March 14. The hostages of PIA Boeing 737, hijacked on March 2 on its way from Karachi to Peshawar, were finally released today at Damascus after the Government of Pakistan met the hijacker's demand by releasing a number of political prisoners. The hijack claimed the life of Tariq Rahim, former ADC to Zulfikar Ali Bhutto, who was killed by the hijackers at Kabul Airport where the plane stayed from March 2 to March 7.
The team of 3 hijackers was led by Salamullah Tipu, a dropout of the military academy Kakul orignally hailing from Karachi. He claims to belong to the Al Zulfikar Organization (AZO) and working on the instructions of Mir Murtaza Bhutto, the son of the late Zulfikar Ali Bhutto, who has claimed responsibility for the hujack in interview with the BBC.
The released prisoners mostly belong to the Movement for Restoration of Democracy (MRD), and it is doubtful if the hijack would bring any popularity to the newly launched movement.
---
Judges take oath under PCO
March Provisional Constitutional Order subordinates judiciary to martial law. Justice Dorab Patel, widely expected to become Chief Justice, has refused to comply and resigned in protest.
---
Friends, not masters?
September 16. Following the tough anti-Soviet policy of newly elected US President Ronald Reagan, Pakistan and the US have signed an agreement promising a 3.2 billion-dollar military aid package, including F-16 aircraft. This move is intended to bolster US support of Pakistan's stand against the Kabul regime, and the country's policy towards the Mujahideen resistance.
Behind the closed doors of the negotiation rooms, a tacit understanding seems to be exist that the Reagan administration could live with Pakistan's nuclear program as long as a bomb was not exploded. Likewise, on the issue of human rights and restoration of democracy (for which the Carter administration had seriously criticized the Zia regime), the secretary of state Alexander Haig has specifically said to Zia's right hand man General K. M. Arif, "Your internal situation is your problem."
---
Close Encounter
Pope John Paul II visits Pakistan, where he narrowly escapes death at the hands of a bomber
Census '81: Key Facts
Total population
83,782,000 -- a 32 per cent increase over a decade
Urban poppulation
23,739,000 -- a leap of 47 per cent in a decade. In 1981, 28 per cent of the population lives in urban areas. In 1951, only 18 per cent did so.
Karachi's population
Over 1 million in 1951; over 5 million in 1981 census. Karachi has grown by 60 per cent in the last decade.
Lahore's population
849,000 in 1951; 2,922,000 in 1981. Lahore has grown by 44 per cent in the last decade.
---
The new winner
March Jehangir Khan is the first Pakistani to win the coveted World Open Squash Championship
---
Fasting regulations
June New martial law ordinance has enforced strict regulations during Ramadan. With the special exception of airports, railway stations and some bus stops, eating in public would not be allowed during the fasting hours and restaurants must shut down. Cinema halls have to be closed for 3 hours after the dusk.
Offenders may be fined up to Rs.500 and/or imprisoned for up to 3 months.
---
Curtain Call
After over 400 weeks in the box office, the showing of Aina comes to an end as the film is taken off the Scala in Karachi, where it ran for more than 4 years. It has been the most popular film in the country's history so far.
---
Indian films
Video cassette rentals are now a household habit, depsite the fact that the import of video cassette recorders continues to be illegal. The authorities seem to have adopted a lenient policy towards the VCR and video cassettes, including tapes of Indian films which were officially banned in 1965, but remain by far the most popular of video rentals.
Songs remembered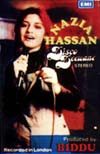 Disco Deewane (Cassette: Disco Deewane)
Aao na (Cassette: Disco Deewane)
Dhundhali raat (Cassette: Disco Deewane)
Teray Qadmon ko (Cassette: Disco Deewane)
Tu mujhe kaisay bhool payegi (Manzil)
Dekh idhar eik nazar (Bada Admi)
Yeh hava yeh faza (Kala Dhanda Goray Loag)
Above: Nazia Hasan is the new sensation with Disco Deewane, the hottest selling EMI cassette since 1902